Me & My Kancil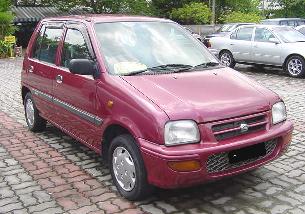 Yesterday was the very trying day for me and my kancil. Let me explain.

In the morning, I accidentally left my car key in the car and locked myself outside. As this is not the first time that is happens, I already know what to do. I went to a restaurant nearby and borrowed a fork. I managed to use the fork to open the back door and it was done.

In the later morning, about 10.30am, I noticed some strange noice out of the tyres and went down and check. No problem. However, after another 5 minutes drive, I heard familiar noice and true enough, one of my tyres punctured. Well, as this is also not my first experience, very calmly I got it fixed on my spare tyre and off I went.

In the evening, about 5pm, after coming back from bank, my car engine just wouldn't start. Lights ok, alarm ok, dashboard endicators all ok. I used to have battery problem but it was not like this. I know something was not right this time. Upon checking and trying a few more times, couldn't figure out. Called my brother in law, who came 1 1/2 hour later, tried jump start the car. No. So, off he went and I called Kurnia AutoAssit. Mechanic arrived at about 8:40pm and got the car started in 15 minutes time. But I was informed that my starter is faulty and need to either service or replace it. After reaching home, truned off the engine, car wouldn't start again.

Well, now you see what I mean?

5pm - 8.40pm ... what did I do?

I prayed ... prayed and prayed. I praised Him for all these as I manage to see the good things that came out of all these.

Firstly, I kept on reminding myself to be patient and calm. This is done by knowing in my heart that He allows things to happen for my own good. I learn really how to quiet my heart and have peace despite the difficulties.

Secondly, I learn how to crank start a car without using the car key (without pushing it either). :-)

Thirdly, and most importantly, it gave me opportunity to sit down, relax, have a drink and read the Bible. I have been overloaded with a lot of things this past one week and I am really tired, to the point that I really felt like being torn a few ways buy all the seemingly important tasks to be taken care of. I have not been reading the Bible for the past 2 days. Now, I am glad that I could finally quiet my heart and do so. Instantly I was uplifted spritually.

When I think back ... huh ... now I know why things need to happen, for the good of me !